Disabled Access Accommodation in Minehead, Somerset
We offer accessible wheelchair accommodation here at Woodcombe. We aim to do our best at our accommodation to cater for those with restricted mobility – whilst all our Lodges and Rose Cottage are on one level, there is either one or two steps involved. We have therefore equipped three of our Lodges, Holly, Laburnum, and Cherry to be accessible to our wheelchair user guests.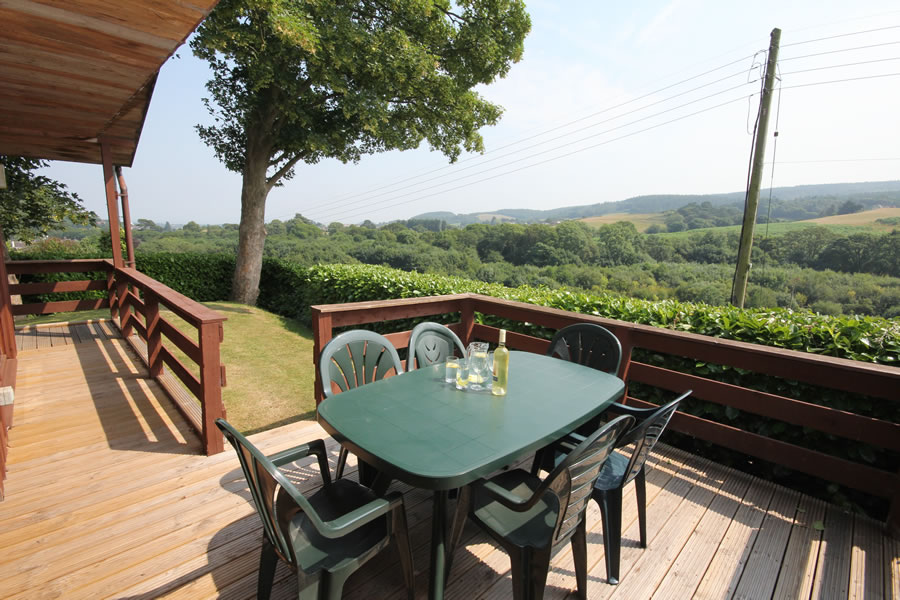 Holly Lodge our largest Lodge has four bedrooms and three bathrooms including a wet room with a shower wheelchair provided. It also has an adjustable electric bed in it's twin room for a daily charge but this is not a full hi-lo bed nor full profile bed. It can sleep up to 10 and has some wonderful views from its two verandas running from the slopes of Exmoor right down over Minehead to the sea. Accessibility assessment level M2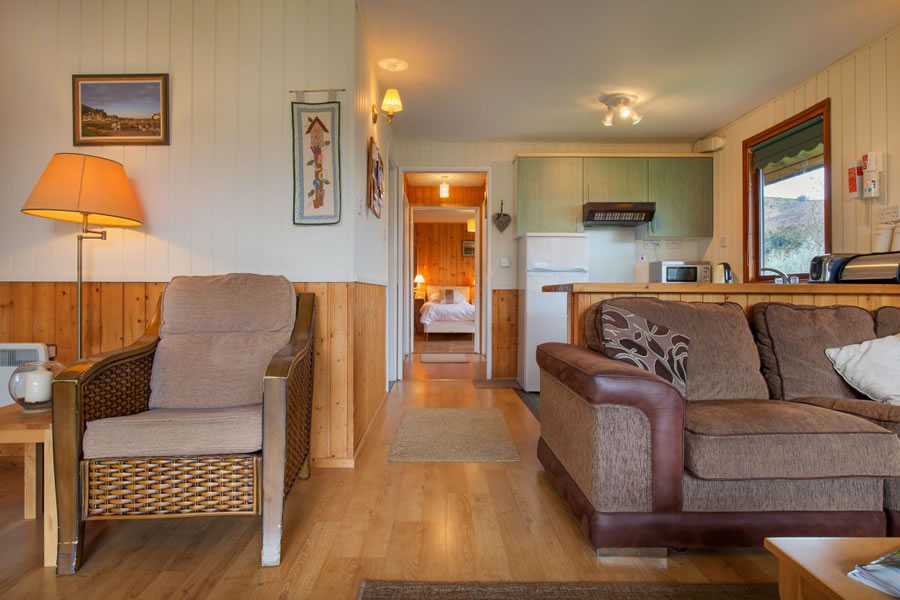 Laburnum Lodge has three bedrooms one of which is not accessible but the remaining double and twin bedrooms are. The Lodge has a main bathroom and again a wet room with a shower wheelchair provided. There is both a veranda with superb views and a patio area. Accessibility assessment level M2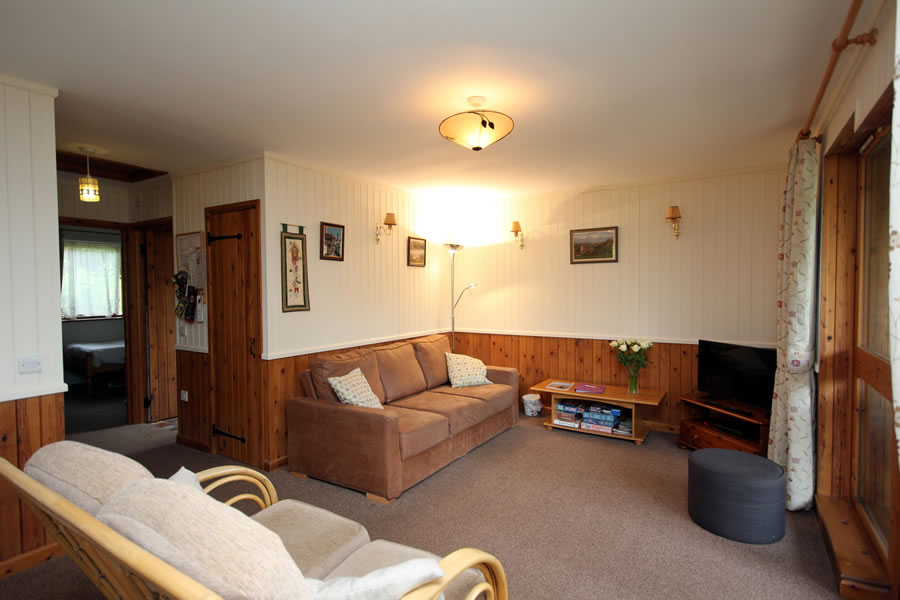 Cherry Tree Lodge has two bedrooms one double and one twin bedroom. The double has an en-suite shower which is not accessible but the main bathroom is a shower wet room with shower wheel chair provided. Accessibility assessment level M1 We do not recommend trying to fit a profile bed in to Cherry Lodge as there is no space to store the furniture already in the Lodge
Hiring of hoists, wheelchairs and profile beds is possible in the local area and we can put you in contact with these services if you do not have contacts of your own. We do ask for equipment to be delivered on the day of arrival and removed on the day of departure as the equipment can get in the way of other guests. We are more than happy to help with deliveries, installation etc and if furniture needs to be moved around to make life easier.
Delivery of gases can be taken in and put in your accommodation ready if needed.
A basic folding wheelchair is available to hire for those who do not wish to bring their own
An adjustable electric bed is available in Holly Lodge for a daily charge but is not a hi-lo or full profile bed
Hire companies for scooters, beds, hoists etc.
Our local contact for profile beds and hoists etc. is Dave Cartwright on 07967 148454 or info@health-essentials.co.uk who is very helpful and can deliver and collect on our changeover days.
Otherwise you can contact www.mobilityscooterhiresouthwest.co.uk/living-aids/ Is a good contact for all profile bed and hoist etc.
but you need to check if they can deliver and collect on your changeover day.
You can also try www.sales.mobilityhire.com/ who can also deliver and collect.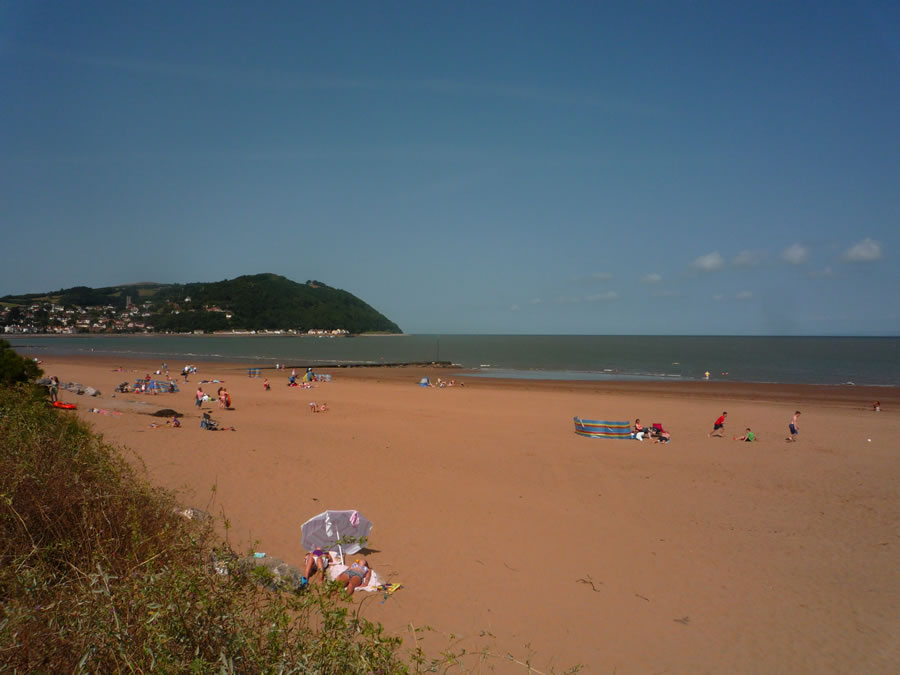 Minehead town
It is a 20 minute walk through a series of parks although there are a few minor roads to cross this can be a very pleasant excursion. The town itself has a number of accessible shops, pubs and restaurant.
Minehead seafront about 1.5 miles has a wide promenade which runs from both the golf course along the seafront to the old harbour and seafront park. There are a number of amusement arcades, shops, pubs and restaurants with access along the front.
There are 2 routes: Long is approx. 830 metres, short is approx. 350 metres. Both are ideal for wheelchairs and buggies. There are super views of the coast and the hills inland. Some of the path meanders through peaceful birch and pine woodland leading to a stone Memorial Hut where you can sit. The hut was erected in memory of Sir Thomas Acland of the Holnicote Estate who died in 1871, by his son John in 1878 and features some fine views inland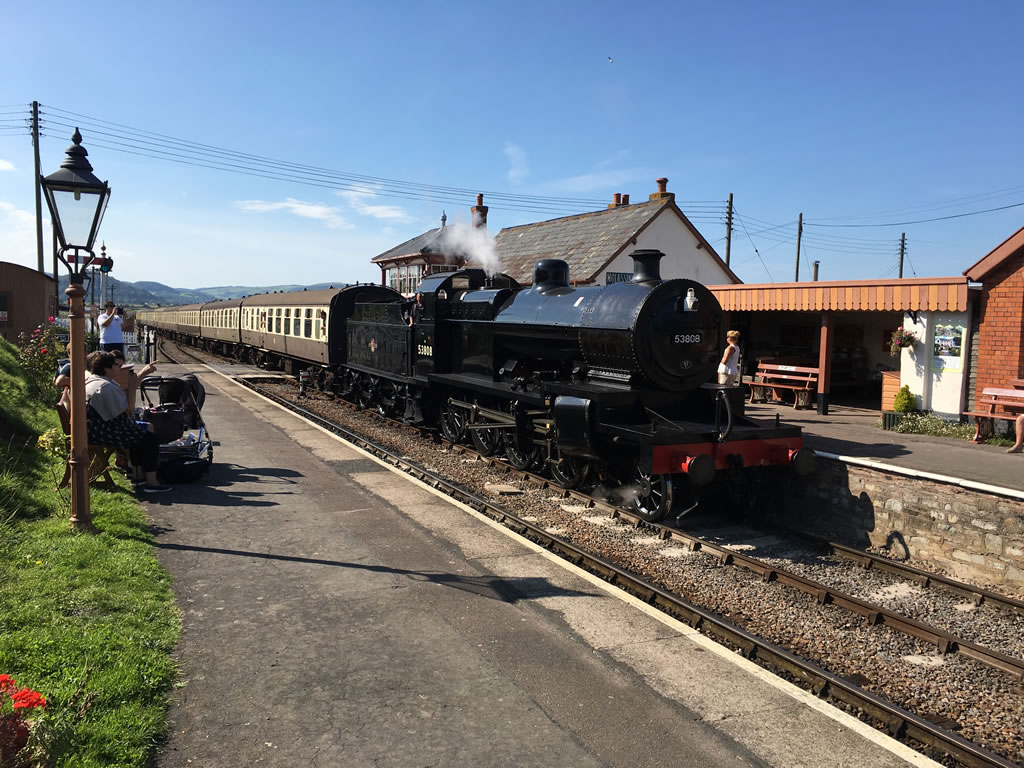 The West Somerset Railway is based in Minehead.-not operating in 2020
A 20 mile stretch of the old Great Western Railway branch line runs along the coast and through the countryside along the foot of the Quantock Hills to Bishop's Lydeard a few miles outside Taunton. There are some ten stations enabling you to stop off in some lovely coastal and rural locations, even if your mobility is limited, most of the stations along the West Somerset Railway are accessible to you.
The West Somerset Railway welcomes passengers who have a disability and any accompanying assistance dogs. Indeed, if you a disability, you may travel at half the adult or child fare. If you have a carer with you, he or she may also be eligible to travel at half fare. (Standard and Special Event Fares only, disabled concessions are not available on their special services). There is no need to pre-book, however if you have more than 3 wheelchairs let them know the date, and trains you intend to travel on. This will give them an idea of how many wheelchairs will be on the train if they need to add their Lorna Doone Coach or new wheelchair accessible coach to provide extra capacity.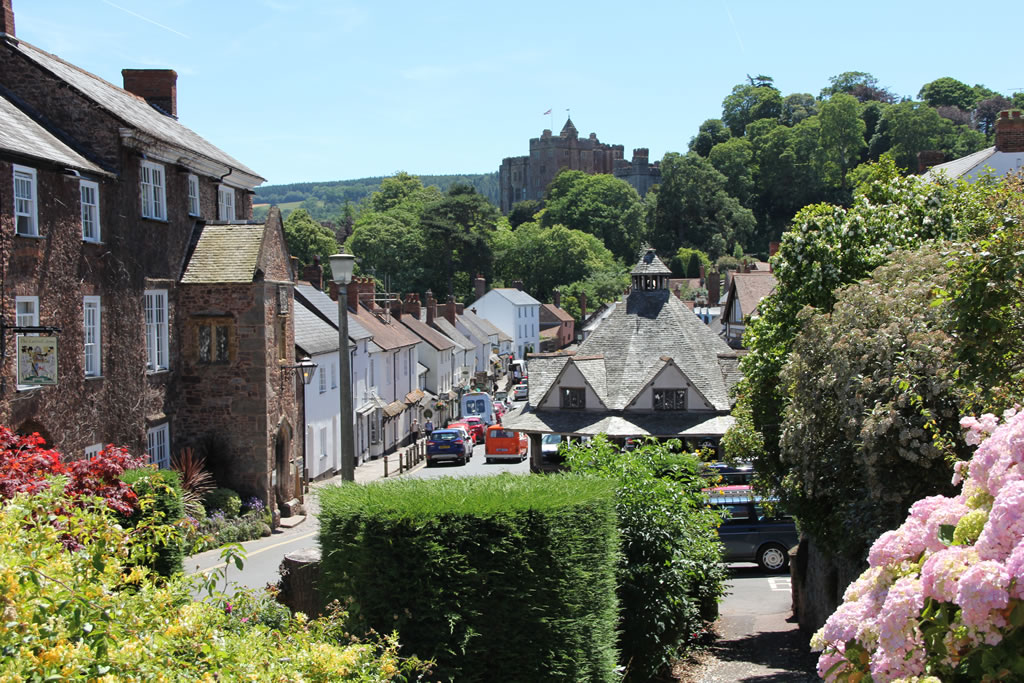 Selworth, Bossington and Allerford
These are three charming villages 3 miles from Woodcombe Lodges with a wealth of old cottages and thatched roofs.
In Selworthy you will find All Saints, a beautiful white church overlooking Dunkery Beacon and the Periwinkle tea rooms for a light lunch or scrumptious cream tea (closed thursdays) . The church is restricted for wheelchair access 01643 841544 but Periwinkle 01643 863341 can be accessed but the paths are quite steep.
Allerford is an attractive little hamlet with a forge and a small post office and tea room but access for wheel chairs would be tricky. There is the Exmoor Owl and Hawk Sanctuary, with daily displays, which is also open for light lunches and tea between Allerford and Bossington. Although technically they do not have disabled toilet facilities, they do have one very large toilet with plenty of room for wheelchairs, so quite good for those with some mobility.  Apart from that we are level, no steps, gravel paths, grass, comfy chairs in the tea garden, and we do have a lot of disabled visitors.
In Bossington you will find some disabled access toilets in the car park and Kitnors tea rooms where although there is not official access they are very helpful and a number of care homes use them regularly. Access by the garden entrance is easiest. The disabled toilet in the car park is just opposite.
These villages are great for a little potter round in the car perhaps before visiting Porlock a couple of miles further on with its equally charming main street and the famous Porlock Hill rising up onto the
Dunster and its castle
A charming medieval village with its National Trust castle and gardens. Great for a quick visit and drive through but the village is not an easy for wheel chairs. Wheelchair access to the Castle gardens is possible and there is a drop off point and route but there are some steep slopes. They have a minibus to take you up to the castle. Access to the castle is limited and via mobile stair climber and it is suggested you ring in advance to check availability 01643 821314.
There are disabled toilets in the main village car park and at the Dunster Castle entrance. To access the Castle drive through Dunster and straight on up the hill through the gates at the traffic lights coming from the South.
Tall Trees Trail
Just south of Dunster taking the Luxborough turn off the A396 is the Nutcombe Bottom car park and the start of the Tall Trees trail a 600m trail through the a collection of giant and exotic trees including the tallest tree in England. The trail has a smooth surface suitable for wheelchairs and a gentle slope of around 12 degrees.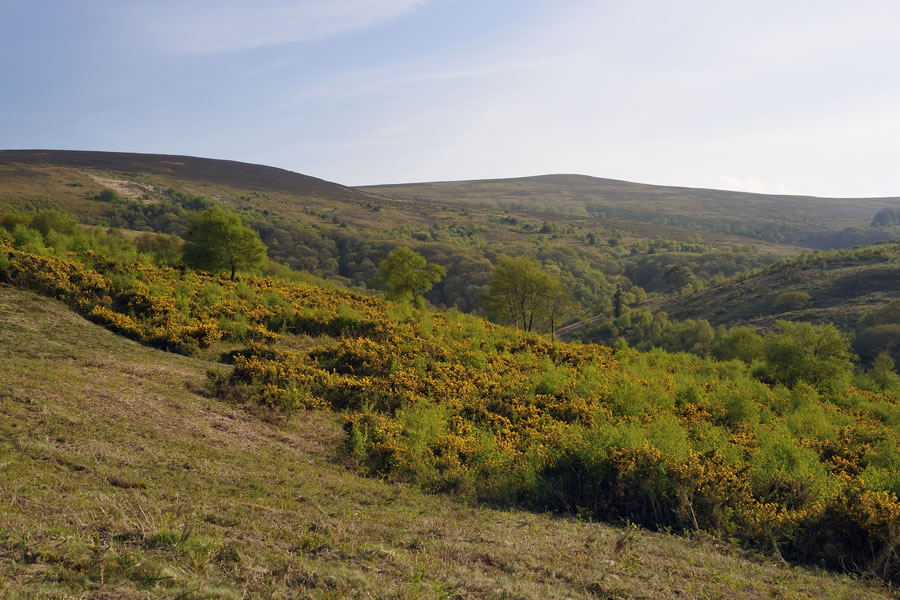 Dunkery Beacon and Webbers Post
Dunkery Beacon is the highest point on Exmoor and is about 2 miles away. Taking the road to Porlock you turn off left to Luccombe following through the village you take a left after about 1.5 miles and climb up to the road just below Dunkery for some fabulous views.
The track up to Dunkery is unfortunately not accessible but on the way up you will pass Webbers post where there is a disabled access track.
The circular, fairly level path meanders through some mixed woodland (mainly pine, oak and birch) for about 800m with super views to the SW of Dunkery Beacon, Horner Wood and Cloutsham Ball. There are a number of benches and a stone seat (another memorial to the Acland family) facing the west and this is a lovely elevated spot for everyone to watch the sun go down over Exmoor on a fine evening.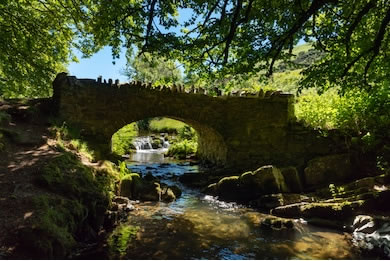 Wimbleball Reservoir
Managed by the South West Lakes Trust who have made tremendous strides in accessibility, Wimbleball Lake is well worth a visit with a Tramper available for hire, fishing. sailing and on at least two days a week in season a chance for a wheelchair user to be taken out on a Rib for a trip around the lake for no charge. Please do check out their web page and make sure you book in advance where necessary to avoid disappointment. Our guests have been thrilled by their experience there. https://www.swlakestrust.org.uk/access-for-all
Weir Water, Robbers Bridge
S of Culbone just off the A39, 4 miles W of Porlock. The approach from Oare, west of the site is easiest. This path follows a small river called Weir Water in this famous beauty spot. There is a pick-up/set down area for wheelchair disembarkment just east of Robbers Bridge (car park at the bridge). The site has a circular walk up the valley and back, the first section of which consists of a 100m 'boardwalk' along the edge of the river, which is especially for wheelchairs. This leads to a level grassy meadow ideal for just sitting or picnics. This is a secluded, peaceful spot, surrounded by moorland hills.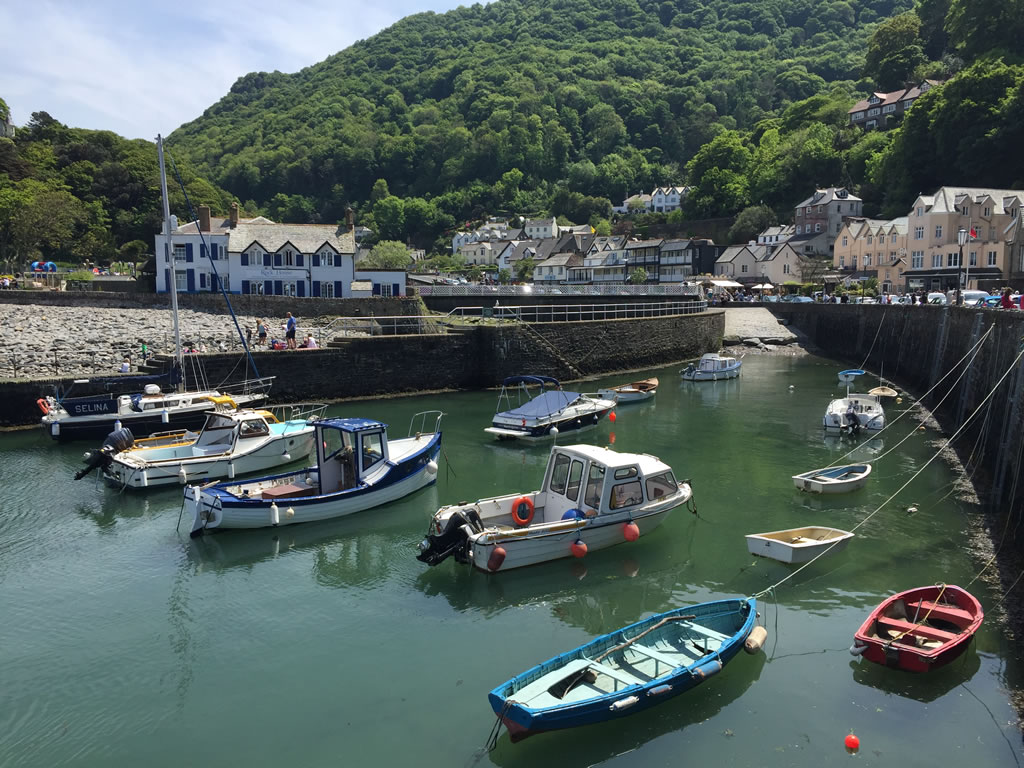 Lynton and Lynmouth
Some 18 miles from Woodcombe the towns on Lynton & Lynmouth offer a trip out over the moor to an attractive seaside cove with a hill up to Lynton which can be accessed by the cliff railway if not by road. The Lynton & Lynmouth cliff railway can be accessed by wheelchair if you use the outside platform if you are unable to fold it as wheelchairs cannot run through the carriages. It is suggested you ring in advance of your trip to discuss your requirements 01598 753908.
The towns have a number of café's and shops with disabled access and Lynton had a delightful little cinema that has access as well 01598 753397
While views over the bay are lovely access to the beach is not possible however.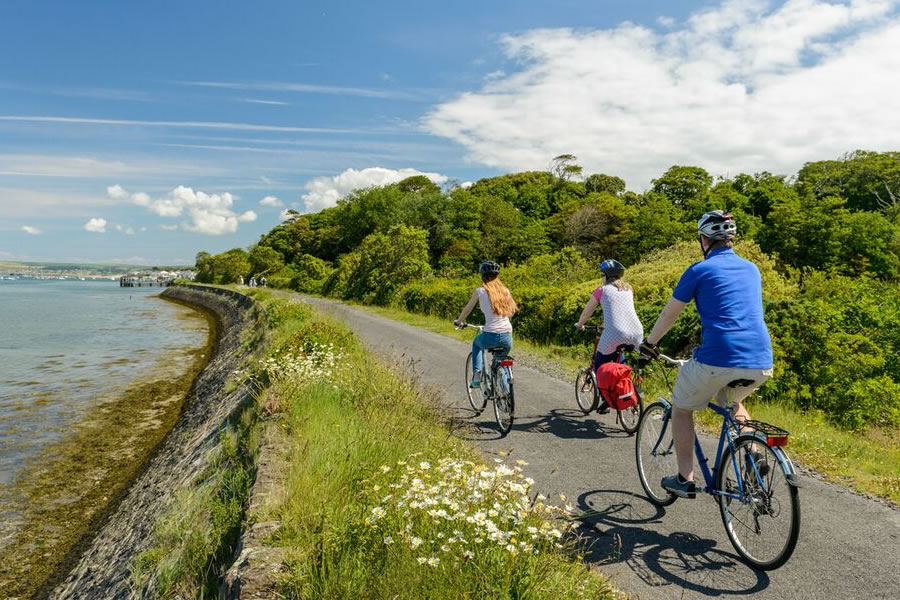 Cycling on the Tarka Trail
To the west of Exmoor is the Tarka Trail. This is a 30 mile stretch of 'reclaimed' railway line which connects Braunton, Barnstaple, Instow, Bideford, Great Torrington and Meeth via the Taw and Torridge valleys. The surface is excellent for bikes and is flat, so suitable for all abilities. This provides opportunities for a great family day out. The route runs alongside the Taw estuary where all kinds of sea birds can be seen. Spoonbills are reputed to have been seen and you may catch sight of the occasional Egret.
The beach at Instow is another popular stopping off point.
The trail is named after Henry Williamson's 'Tarka the Otter' which was based on many locations along the Trail – the scenery and wildlife are spectacular.
Biketrails shop at Fremington Quay (between Barnstaple and Instow on the route) specialises in hiring out all kinds of bike for every ability and many disabilities. There is also a nice cafe and picnic area at Fremington. The Quay is accessible off the B3233 and there is a car park. https://www.biketrail.co.uk/Biketrail_Home.htm
Biketrail's shop in Fremington is adjacent to the RSPB Reserve at Isley Marsh where you can see flocks of estuary birds – Wild Duck, Widgeon, Teal, Mallard, Dunlin, Curlew, Redshank, Oystercatcher, Turnstone, Little Plover, Heron, Godwit and Ringed Plovers.
Disabled Access Walks on Exmoor
There is a guide to some walks on Exmoor where disabled access is possible but please research the detail on each walk first as some areas are quite rough and will depend on your wheelchair and sometimes your ability to negotiate some obstructions. Look on the following link. https://www.exmoor-nationalpark.gov.uk/enjoying/accessible-exmoor     https://www.devon.gov.uk/accessibletrailsindevon.pdf
Accessible Exmoor
In 1996 the Moor Access Group was established to look at ways of making Exmoor accessible to disabled people. They produced a guide, researched and written by disabled people in an effort to share the delights of Exmoor, "which we feel is one of the most beautiful areas of England". The guide covers absolutely everything for planning a visit to the area, and includes details of 11 walks, street maps of the major towns and villages with disabled toilets, car parks and level routes marked, disabled-friendly accommodation and eating houses. The guide book is entitled "Accessible Exmoor" (A5 paperback format) & is available from:- Exmoor National Park Authority, Dulverton, TA22 9HL tel:(01398)323665